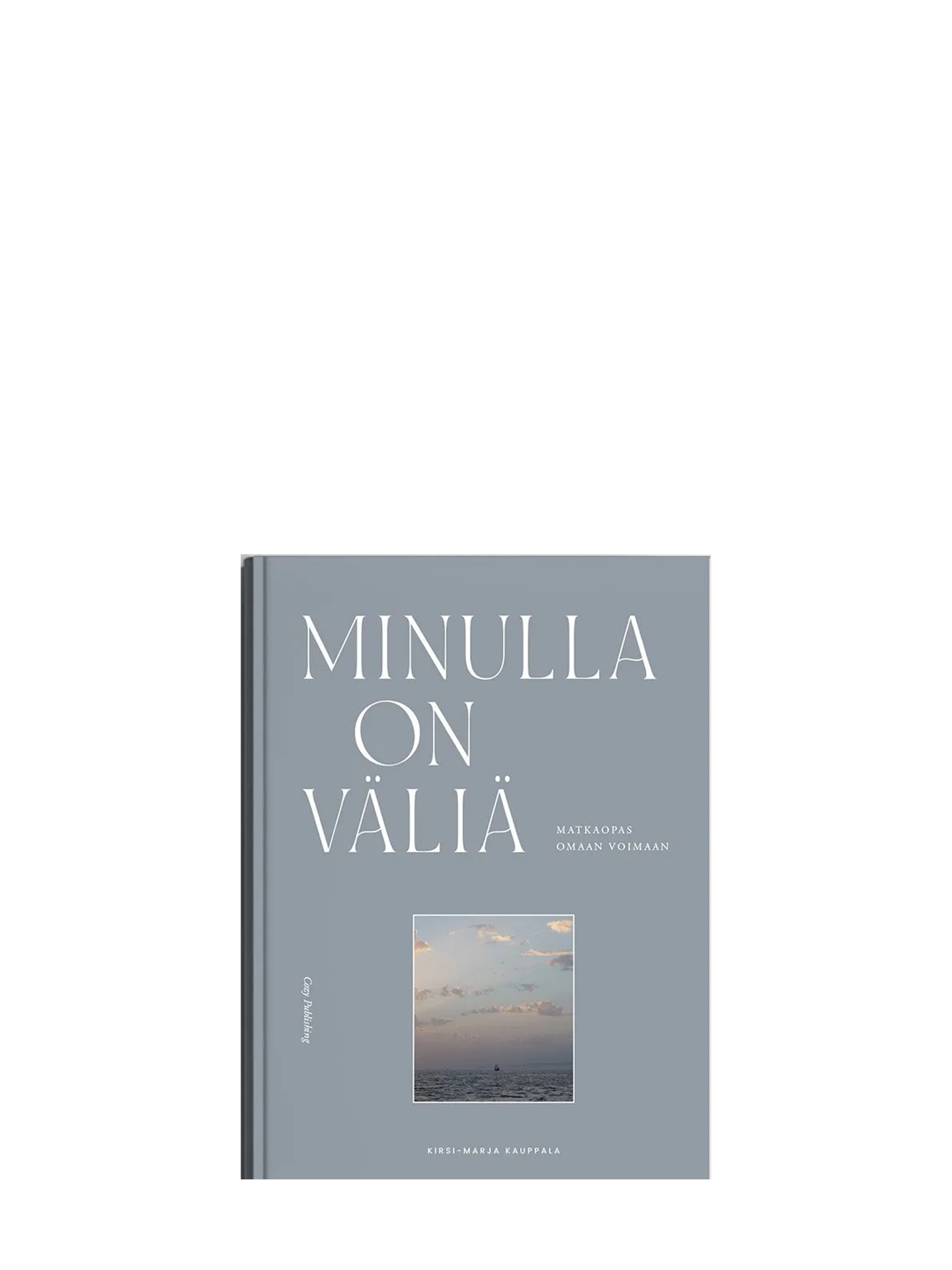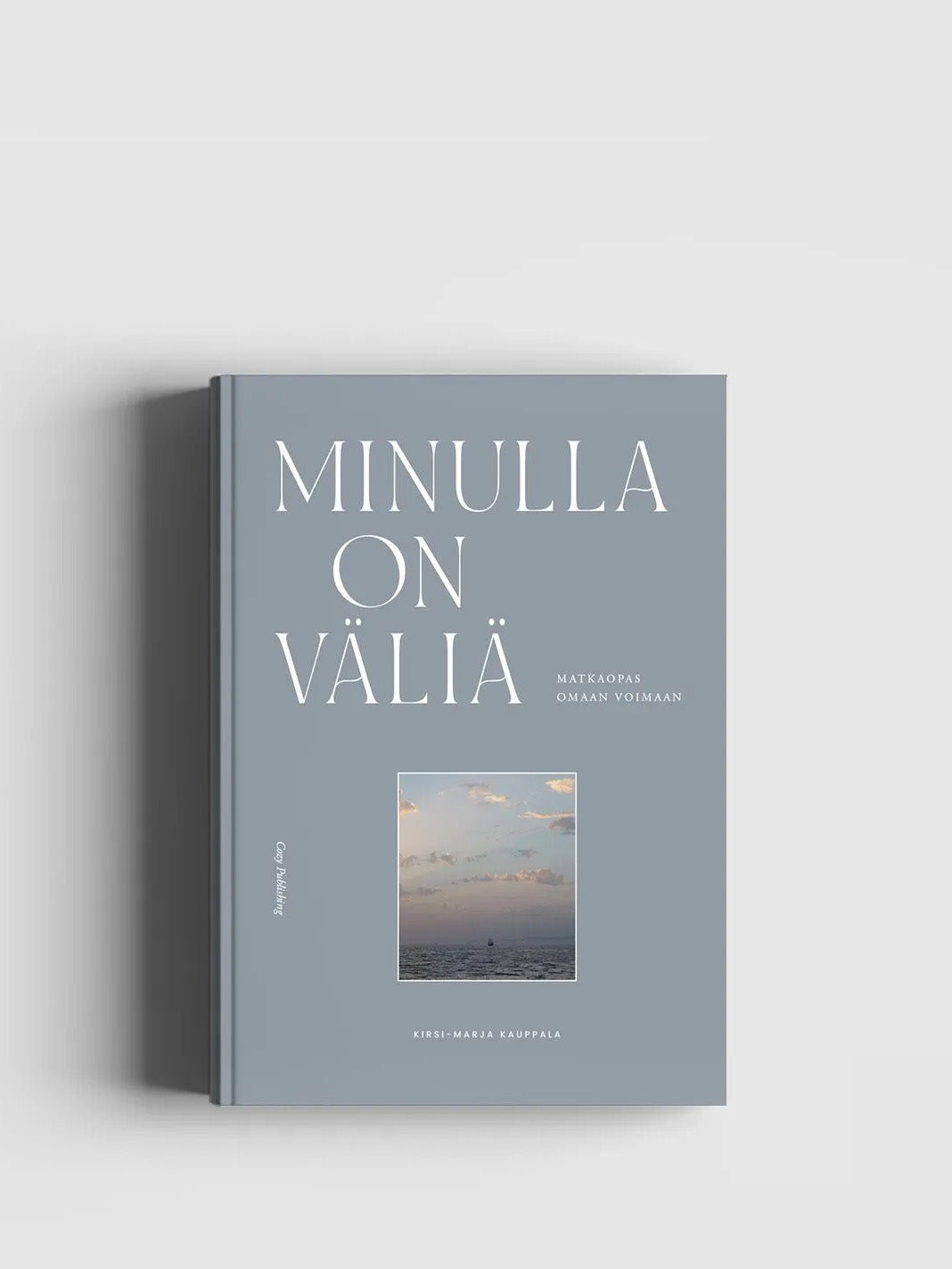 Minulla on väliä – matkaopas omaan voimaan
Struggling to say no? Always putting others first? Discover self-awareness, better relationships, and inner peace with well-being coach Kirsi-Marja Kauppala. Her own journey from burnout to personal growth shows that embracing your shadows leads to self-discovery and the ability to be seen by others.
The book is in Finnish.
Author:

Kirsi-Marja Kauppala (text), Viola Minerva Virtamo (photography)




Size: 14,8 x 21 cm, 168 pages




Publisher: Cozy Publishing




Language: Finnish



Onko sinun vaikea sanoa ei? Vähätteletkö itseäsi ja osaamistasi? Laitatko muut aina itsesi edelle, antaen kaikkesi työlle, perheelle ja ystävillesi? Toivoen, että joku kuuntelisi, ymmärtäisi ja huomioisi vaihteeksi sinuakin. 
Osaat jo miellyttää muita liiankin hyvin, mutta nyt luvassa on jotain parempaa: syvempää itsetuntemusta ja omalla puolellaan olemista. Rehellistä vuorovaikutusta, antoisampia ihmissuhteita, suuria unelmia, sisäistä hyvää oloa ja mielenrauhaa.
Ota uusi kurssi elämääsi hyvinvointivalmentaja Kirsi-Marja Kauppalan luotsaamana – suuntaamalla kohti omaa sisintäsi löydät  paikkaan, jossa olet itsesi paras ystävä. Myös Kirsi-Marjan omat rajoittavat uskomukset johtivat burnoutin partaalle, mutta pysähdyksestä versoi uutta, kasvu omaksi itseksi. 
"Matkalla omaan voimaan oli kohdattava varjonsa: menneisyys, pelot, syvimmät uskomukset ja tukahdutetut tunteet. Oli uskallettava tulla nähdyksi ensin itselleen, jotta voisi tulla nähdyksi muille."
Kirjan teksti on suomeksi.
Regular price
€32,00
Sale price
€32
-0%
Unit price
per
Shipping & Delivery
We are based in Helsinki (Finland) and all our our products are shipped directly from our stores in Helsinki during business days. Estimated delivery times and costs are listed below. At the moment we ship only to EU countries.
Finland
Posti: 1-3 busines days, 6,9€
Orders over 100€ free delivery
Sweden & Denmark
Posti Pickup Parcel: 2-5 business days, 18€
Orders over 300€ free delivery
Inside EU
DHL: 3-6 business days, 18€
Orders over 300€ free delivery
Delivery times are provided as estimates and do not take into account possible delays caused by the shipping service or payment authorization.
Taxes and duties
FOR ORDERS TO EU COUNTRIES
Taxes are already included in the cost of the item and there are no extra taxes or duties on orders shipped within the European Union.
Recently viewed products
Continue where you left off